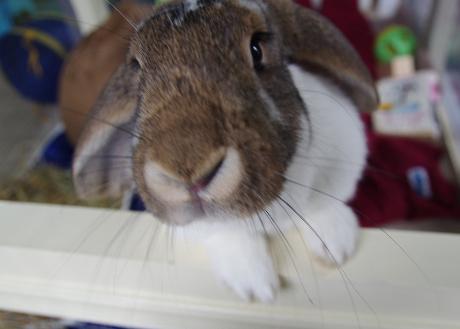 From the 1st January 2017 all rabbits must be vaccinated against Myxomatosis, VHD & also the new strain of RVHD2. Rabbits vaccinated for the FIRST TIME or are OVERDUE, for either the combined Myxo/RHD Vaccination and the new RVHD2 Vaccination must be immunised 21 days before checking in.
We can only board NEUTERED/SPAYED RABBITS - if they are old enough to have had this procedure.

Garden Lodge Bunny Retreat will refuse to board your bunny/bunnies if you can't provide evidence of their individual, up to date vaccination records/annual booster history.
WE RESERVE THE RIGHT TO ASK YOUR VET FOR CONFIRMATION ON VACCINATION & NEUTER STATUS.
Garden Lodge Bunny Retreat reserve the right to carry out a health check upon arrival. Pets can not stay with us if they are showing any signs of 'Snuffles' (Pasteurella), have dirty, matted or wet bottoms, any mite/lice infestation, illness, disease, injury or open wounds or who are on a course of antibiotics for something that could be contagious.
Checking-In and Checking-Out times are by an agreed appointment time only. Please stick to this appointment time.
If you feel you may be late please phone asap (so we can discuss/re-arrange) as I do have other commitments and schedule my diary to accommodate for arrivals and departures. We can't guarantee checking in if you are overly late as I am the only person who admits pets as they are health checked on checking-in. If you miss your check-out time we will do what we can to accommodate this. We understand that delays on the roads and at airports can happen and if you need an additional nights stay we'll do what we can arrange this for you.
Cancellation Fees. Please give as much notice as possible if you need to cancel, however, your deposit is non-refundable. If you can't provide proof of vaccination status on checking in or that bunnies are not neutered your deposit is non-refundable. If we have to cancel your booking, your deposit will be refunded in full.
Any remaining balance is required, in cash, when your pet checks in.
If you wish to collect your pet before their arranged checking-out date, there is no refund for 'unused' days. If you need to extend your pets stay with us (and we have the room for them) an extra payment will be required when they check out.
A Booking form/Pet Health Questionnaire MUST be filled in and brought with you at checking-in. If any of your pets have any medical conditions they must be discussed before they come to stay with us. This questionnaire must be filled in honestly and accurately. Any discrepancies could have an impact should an emergency arise. If other bookings are lost due to dishonesty you will be liable for any losses incurred to us. Unfortunately, we can't care for pets who need daily, oral or subcutaneous, syringe administered medication.
If your pet becomes ill during their stay we will do our very best to contact you or the emergency contact on your paperwork. If we are unable to contact anybody, we will get veterinary treatment for your pet and proceed in their best interest. If possible we ask you to call the veterinary surgery to arrange a credit card payment directly with them. If this is not possible we will still go ahead with seeking treatment and any costs will be payable by you upon your return. We can only accept cash for this as we don't have a card machine.
Your pet will be treated at either; Your own vet (if they are local to us); Vets 4 Pets, Altrincham Retail Park or Timperley Veterinary Surgery.
We have a minimum charge of £10 for attending each veterinary appointment. Treatment details and receipts will be given to you when you check out.
By signing our terms and conditions, you agree to pay any veterinary costs your pet incurs and settle any outstanding veterinary care bills with ourselves, or the veterinary surgery that has treated your pet. Pets can not be checked out until full settlement of any veterinary costs has been repaid.
We can't continue to board pets, who start to display symptoms of anything that could be potentially contagious. These pets will be seen by a vet and hospitalised at the veterinary surgery for the remainder of their stay. Any remaining boarding fees are non refundable. However, we would waive the £10 charge for the veterinary appointment/transportation under these circumstances.
Sadly, small animals can pass away with very quickly with very little warning, after showing the initial signs of being sick, even following veterinary treatment. If this should happen, we will contact you immediately to discuss your wishes. Garden Lodge Bunny Retreat accept no liability in the unlikely event that this may happen. We will be unable to refund any remaining boarding fees and you will still be liable for any veterinary fees incurred, including cremation.
PETS WHO ARRIVE AS A BONDED PAIR WHO START FIGHTING. If your pets start fighting we will contact you immediately and in their interests may separate them for the remainder of their stay. There will be an additional charge for the 2nd suite/or the villa used to facilitate this.
ABANDONED PETS. If you fail to collect your pets within 7 days of the agreed collection date (and you have made no contact with us to explain your circumstances) we reserve the right to surrender your pet to a rabbit rescue service to be made available for adoption. Of course we will do everything we can to contact you prior to making this tough decision.
All pet owners must accept that accident, injury, illness, disease, mite infestation (as hay & straw are natural products) death, theft, public liability and all other insurances for the animal or themselves whilst visiting and boarding with us and that Garden Lodge Bunny Retreat are released of any and all such liabilities.
By signing this form I (the pet owner) confirm that I have answered the health questionnaire honestly and read and agree with our Terms and Conditions, for this and any repeat visits to the Garden Lodge Bunny Retreat.
I accept that it is my responsibility to check the latest Terms & Conditions when making a booking.
I confirm that my rabbit/s are fully Vaccinated and Neutered.

Signed .......................................................................................................................... Date …................................. (Pet Owner)
*Optional
I confirm that the signature below acts as 'consent' should my pet need veterinary surgery, in my absence, whist under the care of the Garden Lodge Bunny Retreat.
Signed …...................................................... (Pet Owner) Print Name ........................................................ Date …...................................
Copyright Garden Lodge Bunny Retreat / Amanda J Window (C)2017