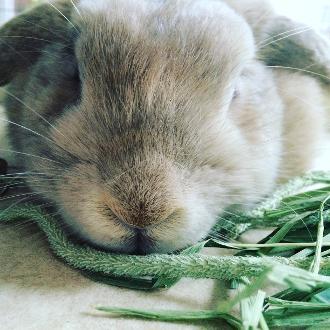 TERMS AND CONDITIONS
A boarding contract between you and the Garden Lodge Bunny Retreat is active once a deposit is received and/or you have received full confirmation of your pets holiday booking. Bookings are charged PER DAY regardless of what time your pets arrive or leave.

The balance of your pets holiday can be paid on a

*

Debit Card

when you drop them off. We do not accept cash. Only the registered owner of the animal can drop pets off on their initial stay. This is due to the signatures required on the

registration

form for

Veterinary

consents.



If your journey is delayed, and we can accommodate your pet/s, any extra nights are charged at the normal daily rate.

We do not refund for 'unused' days if you collect your pet ear

ly.

The remaining balance is still required should you reduce the number of nights 'initially booked' during

**peak Summer

. As a compromise bales of hay are sent to

Rabbit Rescue North West

for their hungry rescue buns!

We

appreciate as much notice as possible if you need to cancel your booking. D

eposits are non-refundable and non-transferable to future dates.

A

cancellation within 72 hours

of your expected arrival date/time will incur a fee of 25% of the total price of your booking. You may be liable for the

full amount

for a

cancellation or '

no-show'

on your expected date of arrival. We can supply an invoice for your insurance company for you to claim on your travel insurance policy. If we have to

cancel

your

booking

then your deposit will be refunded.

We only board

F

ully Vaccinated

rabbits. Pet

should have had 2 separate injections: 1 for Myxomatosis/RHD1 and a separate injection for the new virus RHD2. You need to bring your vaccination record card as proof of vaccinations with you

when you drop your pets off. Vaccinations are 12

monthly

(Please note, Eravac is 9 monthly).

Regardless of what your vet advises, it is our policy that first time or overdue vaccinations must be given at least

21 days before your pets arrival date.

Deposits

are non-refundable if vaccinations are

insufficient, don't meet our timescales

or lapsed.

ALL rabbits must be neutered/spayed

.

Males should have been neutered at least 8 weeks (2 Months) before their drop-off date so their hormones and issues around spraying have settled.

We ask for a pet questionnaire

to be

filled in prior to your booking being confirmed. Both PAST and PRESENT medical conditions/

illnesses

MUST BE DISCUSSED WITH US BEFORE YOU MAKE A BOOKING

.

Pets must be in good health and not

showing signs of a mite

/lice infestation, illness, injury,

or who are on a course of medication for a potentially contagious condition, including E. cuniculi (EC) and pasteurella.

If we are unable to board your pet because

they are showing symptoms of any of the above

then 50% of your balance is still due. Pets should be health checked regularly by yourselves or by your vet in the run up to their holiday.

We can not board pets who have a history of a Pasteurella (snuffles/cold/cough) even if it was successfully treated. Unfortunately, some rabbits find boarding stressful, which can reactivate the bacteria responsible for this highly

contagious

illness. Pets

who have seen a vet for an illness the week before boarding, need to be

passed as 'fit to board', i

n

writing, by your vet. We can give oral medication, but we do not offer 'nursing care'.

We do not board pets who have had a

general anaesthetic within 7 days of their drop-off date

.

We do not admit rabbits who have dirty, wet or matted fur around their bottoms/back legs. Pets who arrive with dirty bottoms will be referred to a Veterinary Nurse for cleaning at a charge of £28 (Payable to Timperley Veterinary Surgery) and an alternative drop-off time will be arranged to accommodate this.

If your pet becomes ill, we will take them to see one our of registered vets (or your vet if it is local to us) at the first available appointment. Any

guest showing symptoms of gut statis they will be taken immediately to Ashleigh Vets in Chorlton. Gut statis is a medical emergency and the staff here work 24/7 to give them the special care they need along with supported feeding. This may involve an overnight stay as pets are only discharged once they are eating and pooping normally.

We charge £10 for attending each veterinary appointment. Some vets may need a deposit upon your pets arrival. Any costs will be payable by you either to by phone to the surgery at the end of the consultation or when you collect your rabbit. We will refuse to release your rabbit until veterinary fees

have been paid.

Rabbits who start to show symptoms of anything contagious will be quarantined at the surgery to receive veterinary care.

Sadly, small animals can pass away very quickly even after receiving medical treatment. Should this happen, we will contact you immediately to discuss your wishes. Garden Lodge Bunny Retreat accept no liability in the unlikely event that this may happen.

We do not refund for any unused boarding fees and you will still be liable for any veterinary fees incurred including cremation.

If your rabbits need to be separated due to fighting, you will be liable for the additional boarding fees for another suite or the Vanilla Villa.

We do not have the amenities to board giant/giant cross breeds of rabbits.

If you don't collect your rabbits within 7 days of the agreed collection date (and you have made no contact with us to explain your circumstances) we reserve the right to surrender your pets to a rehoming service.
To board your pets with us you must agree to our Terms and Conditions
Unlike cat and dog boarding, rabbit boarding establishments do not require a licence. Animals are left at the owners risk. Any, injury, illness, disease, mite infestation (as hay & straw are natural products) death and theft are the owners responsibility.
It is the pet owners responsibility to keep themselves updated of our Terms and Conditions before making a booking.
*Debit and Credit Card payments over £150 or used to settle veterinary bills (including transport to and from the vets) will incur a 1.75% transaction fee, this is what we are charged by iZettle to use this service.
** Peak Summer: July to Mid September