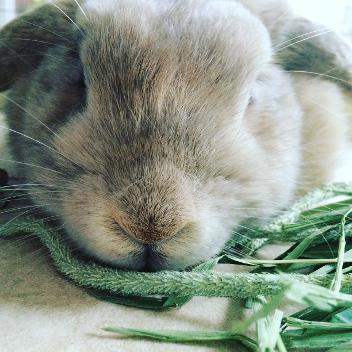 We love to hear back from people who's pets have stayed with us. Please use the form below so we can add your comments to the page.
Jude Mella & Kolo
What a fantastic place Amanda has opened. As my three week holiday approached I was worrying about our rabbit, Kolo, and how he would fair without us. I then spotted an advert for the Bunny Retreat and can honestly say I didn't worry about Kolo at all which left me to really enjoy our hols. He was thoroughly spoiled and I received lots of Whatsapp pics of him having a lovely time. Thank you so much Amanda, we will not hesitate to book him in again and recommend you to others.
Steven Marsh & Dave
Recommended by our local vet, Garden Lodge Bunny Retreat was absolutely brilliant. It was the first time we went on holiday since we got our bunny Dave and could see he was in excellent hands with Amanda. Regular updates and photos let us know he was happy whilst we were away meaning we could relax and enjoy our holiday.
He'll definitely be visiting again
Anna Walsh & Willow

Thank you Amanda for opening this fantastic retreat!! It's fair to say that our very spoilt rabbit, Willow, did not miss us at all during her two visits with you! We are all very impressed with your facilities, and more importantly, the care you give to the animals. Willow enjoyed lots of fresh, homegrown greens and plenty of cuddles. The postcard we sent was even put up near her suite so she could see it! We could not recommend this place highly enough, Amanda really goes above and beyond to make your pet welcome. Willow is looking forward to her next visit in the summer!
Sue Burton & Fudge
From the moment I phoned Amanda about the bunny retreat I felt that Fudge would be perfectly safe and well looked after while I went away for my holiday. Although I live an hour away from Garden lodge bunny retreat knowing that he was safe and happy made it all worth while. It was especially a nice touch to receive photos and even a video of how he was making himself at home whilst I was on holiday and upon returning home again after my holiday he settled right back in telling me that he had enjoyed his holiday too. Thanks Amanda
Lucy Chadwick & Rocco
From the moment I contacted Amanda, I knew that our rabbit would be in great hands. She asked lots of questions about Rocco and when we arrived, I couldn't believe how fabulous the facilities were. We received messages and photos of Rocco and Amanda really couldn't have done more to look after our pet. I would highly recommend the Garden Lodge Bunny Retreat and I'm sure Rocco is excited for her next visit!! Thanks Amanda