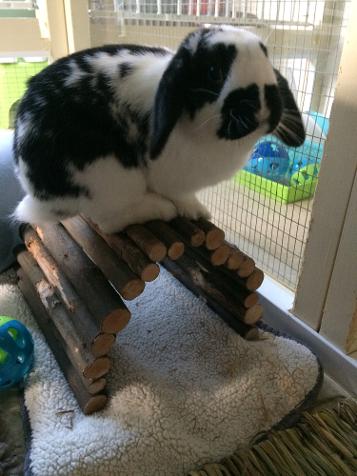 Do my pets need vaccinating?

ALL RABBITS MUST BE VACCINATED AGAINST MYXOMATOSIS AND VHD and from the 1st January 2017 new strain of RVHD2.
Rabbits who are being vaccinated for the FIRST TIME (or who's vaccinations are overdue) with either the combined Myxo/VHD vaccination or the vaccine for the new strain of RVHD2, must be immunised 21 days before checking in - this is for the vaccines to become fully effective and for your bunny to recover from any possible side effects and the journety to and from the vets,whilst they are at home with you, surrounded by their home comforts.
Can you tell me more about the 'bunny suites'?
There are three bunny suites. The Blossom, the Blubell Suite and the Honeysuckle suite. They are all 6ft long x 3ft wide divided by a wire/perspex partition and fitted with a privacy board where the bedroom/balcony area is. The partitioning is open topped as it is just over 4ft high. We access each suite through a safety gate fitted with a perspex sheet.
Each suite has a plastic pet bed filled with straw in winter and hay in the summer, a foot stool to jump on, a litter box, toys and a plastic or wooden playsticks tunnel.
We can offer bunnies water from a glass bottle or a heavy ceramic bowl. Pellets are served in a cute Royal Doulton Bunnykins bowl.
Which ever suite your rabbit stays in, they will get a colour co-ordinated box to keep their food and personal belongings in during their stay.
What if my rabbit has never seen other rabbits?
We monitor guests closely when they arrive, by either popping in regularly or via the CCTV fitted in the lodge. If we feel bunnies need a little more privacy when settling in, we can fit an additional privacy board so they can't see their neighbours, although they will be able to smell and hear them.
Why does my rabbit have to be neutered/spayed to board with you?
Neutered/spayed rabbits have healthier and longer lives, as well as not showing territorial or aggressive behavior towards other rabbits (even through a partition) and people, due to raging hormones.
Un-Neutered rabbits, of both sexes, can spray lots of urine up walls and around their surroundings in order to 'mark their territory'. This is particularly noticeable when they are in an unfamiliar place where they can smell other rabbits around them.
Can I book for only 1 night?
We do usually ask for a minimum 2 nights stay, however, we can bend the rules to accommodate special circumstances. We clean all our suites and renew guests bedding and litter boxes in the morning, therefore, checking in and checking out days are charged in full.
What do you do if my bunny becomes unwell?
If your bunny becomes unwell we will contact you straight away and take your pet to our registered veterinary surgery Vets for Pets, Altrincham Retail Park which is open 7 days a week or at Timperley Veterinary Centre.. But do remember that any charges resulting in a veterinary visit will be payable, by you, when your bunny checks out.
We do ask that if your pet needs to see a vet (that after we contact you to confirm their vets visit) that, if at all possible, you contact the surgery with your credit or debit card details. However, if this is not possible we can pay the bill on your behalf and any monies owing must be paid back to us, in cash, when your pet checks out.
Bunnies that are unwell can be brought inside our home, in an indoor crate, so we can keep an eye on them if need be. On rare occasions, very sick animals may have to be referred to either Cheadle Hulme A&E Vets or Vets Now in Whitefield, Manchester. We hope this never happens, but you must be aware that their initial consultation fees start at around £90 to £134 if admitted before 11pm, as they are both 24 hour specialist A&E Animal Hospitals.
What is your cleaning routine?
Daily: All litter trays and hay boxes are fully replaced with new litter/hay every morning. Each suite is fitted with non slip lino for comfort and hygiene, so that bunny berries can be swept from every suite and the floors and cleaned with soap and water and, if need be, disinfected with a veterinary disinfectant - either Ark-Klens or Anigene.
On Checking Out: When a bunny checks out, their suite is washed down, steam cleaned and disinfected with a veterinary disinfectant Ark-Klens or Anigene, along with all litter trays. Floor and balcony areas are steam cleaned so everything is fresh and clean for new arrivals.
What can I or can't I bring?
All hay forage/bedding is provided, along with food and water bowls, toys, litter trays. All we ask is that you bring your own 'pellet' food if you use a brand that we don't *supply, as a sudden change in diet can upset a bun's tum. Don't forget to pack your bunnies favourite toys and blankets to help them settle in.
*We currently supply Burgess Excel (Adult & Dwarf) and Pets at Home Adult Pellets.
However, we do ask that you DON'T bring your own indoor cages or outdoor runs, as we may not be able to accommodate them and we have nowhere to store them when not in use.
You don't need to bring your own litter box, we have plenty here, and we like to disinfect everything that goes into the lodge.
Fleeces or blankets are not included. If your pet brings any of these, please make sure you bring enough to see them through their stay. However, during winter we can provide a carpet tile which can be taken home with you.
How do you keep my bunny cool in summer and warm in winter?
In summer we run a fan on warmer days and provide bunnies with a cool tile to lie on and an ice pod.
In the chilly winter months beds are stuffed full of straw, as it has better insulating properties compared to hay. We can heat the lodge with an Eco Slimline Tube Heater. Heating is turned off at bedtime, when all guests are tucked up with a Snugglesafe hot water bottle. Pets can bring a sheet or fleece blanket with them - so they feel super cosy during the colder nights!
My bunny can't jump onto a stool - how will he enjoy the balcony?
We have a special ramp to make it easier for disabled or elderly bunnies to get onto the balcony area.
Will my bunny get garden time?
Due to the fact that grass and earth can't be disinfected between guests, we only allow bunnies who are 'long stay' guests to have garden time. Long staying guests will have the exclusive use of our large run, on an allocated part of the lawn. Bunnies are never left out on their own. If we need to pop out, guests are returned to their suite.
What will happen if we are delayed on checking in or checking out?
If you are delayed please let us know (by phoning us) as soon as possible. I do have other commitments and schedule my diary around pet check-in times. If you are delayed checking-in we can arrange an alternative checking-in time later that day or arrange a collection if you are local. I am the only person who admits pets, as I do a health check, my family can't do this in my absence.
If you are delayed on collection day please phone us asap. We know that delays can happen both on the roads and at airports, and we will continue to look after your pet/s until you come to collect them. If the Lodge is full we have the Vanilla Villa in another building that can be used in emergencies like this. Your bunny will still be surrounded by their familiar things in the Villa so they settle. If your pet/s stay for an additional night we will only charge you for the extra night that your bunny is in residence. We DON'T charge for extra for the additional 'housekeeping/cleaning'.
Can I contact you for updates while I am away?
Of course! We feel that is is such an important part of your bunnies stay with us, that we now have an exclusive 'Keep in touch with your pet' service. You will be able to see updates of your pet on our Facebook Page or we can send photo updates via WhatsApp. If you don't have a smart phone, don't worry, we can send text updates to you.
Copyright Garden Lodge Bunny Retreat / Amanda J Window (C)2016