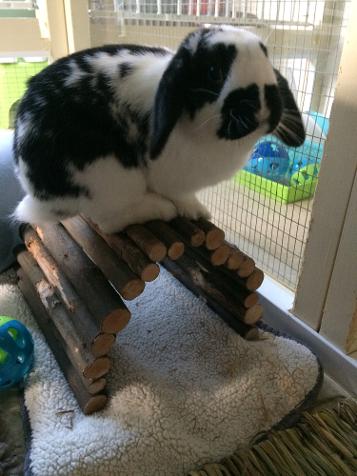 Can you tell me more about the 'bunny suites'?
We have three bunny suites. The Blossom, the Blubell Suite and the Honeysuckle suite. Each suite is 6ft long x 3ft wide divided by a wire/perspex partition and fitted with a privacy board where the bedroom/balcony area is. The balcony is permanently fixed at the end of the suite and is 12" high so there's plenty of room underneath too. Our partitioning is open topped as it is just over 4ft high, but this also gives house bunnies that 'open feeling' that they are used to - so they don't feel confined. We access each suite through a safety gate fitted with a perspex sheet.
We designed our suites based on the things that your house bunnies have around them on a daily basis: i.e Coffee tables to sleep under and furniutre to jump on.
Each suite has a plastic pet bed filled with straw (or you can bring a big fluffy fleece blanket), a play stool to jump on, a litter box, toys and a plastic tunnel or a wooden playsticks bridge. We also fill cardboard tubes with hay to keep our guests occupied.
We can offer bunnies water from a glass bottle or a ceramic bowl.
Whichever suite your rabbit stays in, they will get a colour co-ordinated box to keep their personal belongings in during their stay.
All the suites, toys and litter boxes, including the Villa, are cleaned thoroughly before new guests check in. We use a professional veterinary disinfectant called Anigene and sometimes we use a product called Virkon when we do a deep clean.
Cleanliness is very important to us as it's 'healthier' for your pets to stay in a clean, dust free environment.
What is your daily routine?
All guests are served breakfast from 7am and litter trays and hay boxes are fully replaced with new litter/hay. As each suite is fitted with non slip lino for comfort and hygiene, any stray bunny berries are swept away and the floors and cleaned with mild detergent or a veterinary disinfectant and of course everyone gets a fuss in the morning - but most bunnies are really just more interested in their breakfast!
We find that most bunnies hop straight into their newly cleaned litter boxes after breakfast to munch on the lush hay, some may play with their toys and some go for a snooze on the balcony.
Around lunchtime each guest gets a good handful of greens and a fuss. We do this so we can monitor that everyone is eating and happy.
Late afternoon is cuddle and grooming time. Not everyone likes to be groomed, so if your bunny really hates it, we won't force them, as they need to be happy and relaxed during their stay here. Please feel free to bring your own grooming brushes.
Tea Time is around 6pm, and if need be, litter boxes are changed again. Hay racks on the balconies are topped up so everyone has enough hay to see them through to the next morning.
At bedtime the music or radio and lights are turned off. In winter the curtains are drawn to keep the warmth in and guests are tucked up with a Snugglesafe (if we expect a cold night).
What can I or can't I bring?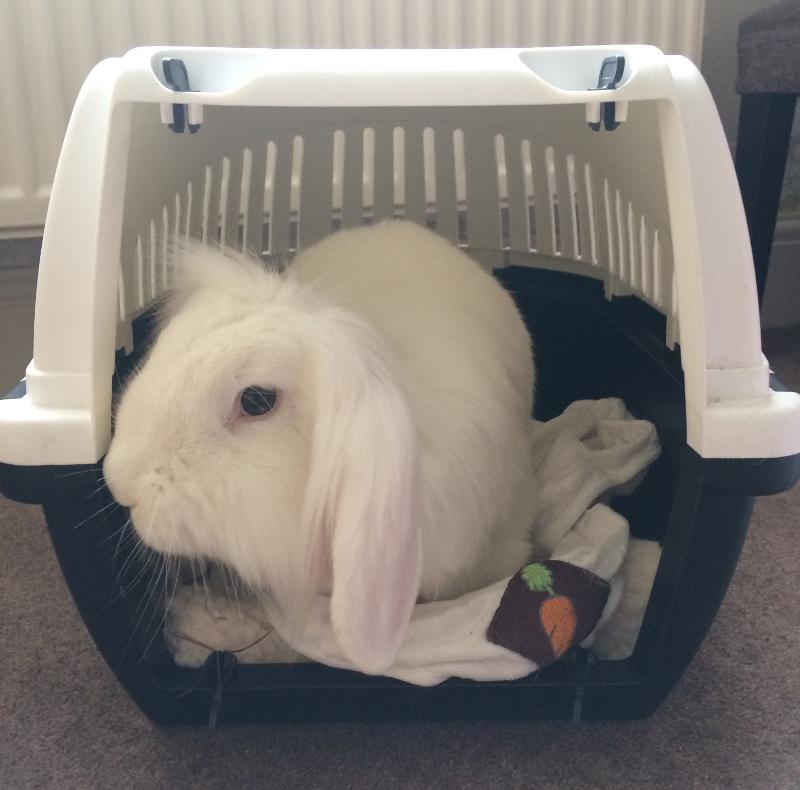 Firsty, we do ask that you bring your pets in a fully operational pet carrier. This is for their own safety should we need to use it during their stay.
All hay, straw bedding and litter box materials are provided, along with food/water bowls, toys, beds and litter trays. All we ask is that you bring your own 'pellet' food with you or vegetables/herbs if that is your rabbits main diet. Don't forget to pack your bunnies favourite toys and clean blankets - the smell of something familiar helps to them settle in!
Fleeces or blankets are not included but you are welcome to bring along as many as you like. Please make sure that they are clean as we can't launder guests bedding. During winter we can provide a carpet tile for guests to chill-out on, which you can take home with you.
Some bunnies love cardboard boxes, so feel free to bring one along so your rabbit can dig and play or hide in it. Please bear in mind the size of our suites when choosing your buns cardboard box though!
You don't need to bring your own litter box, we have plenty here, and we disinfect everything that goes into the lodge. Sometimes it helps if you bring a little 'used' litter from your bunnies litter box at home, as their litter box here will then smell familiar to them.
We do ask that you don't bring your own indoor cages or outdoor runs, as we may not be able to accommodate them and we don't have nowhere to store them.
What if my rabbit has never seen other rabbits?
We monitor guests closely when they arrive. If we feel that any guests need a little more privacy when settling in, we can fit an additional privacy board so they can't see their neighbours, although they will still be able to smell and hear them. We find that most rabbits are very inquisitive and like to see who is residing next door.
How do you keep my bunny cool in summer and warm in winter?
During the chilly winter months beds are stuffed full of straw, as it has better insulating properties compared to hay. We can heat the lodge with an Eco Slimline Tube Heater that runs along the front of the suites (and away from bunny teeth!). Pets can bring a sheet or fleece blanket with them - so they feel super cosy during the colder nights!
In summer we run a fan on warmer days and provide bunnies with a 'Scratch & Newton' ice pod and a cool tile to lie on.
Will my bunny get garden time?
We're really sorry but due to the fact that grass and earth can't be disinfected between guests. So for everyones health and wellbeing bunnies play in their suites, as there is lots to keep them amused.
What are your opening hours?

You can find a list of our opening hours on our 'Contact Us' Page. However, we are flexible if you are traveling a long distance or you have a flight to catch and you wish to drop your pets off (or collect) 'en-route'.
What will happen if we are delayed on checking in or checking out?
If you think you may be delayed please let us know by phoning as soon as possible. I do have other commitments and schedule my diary around pet check-in times.
If your incoming flights are delayed we will reschedule your collection time/date and we will do what we can to accomodate your pet for an additional night if you need it.
If the Lodge is full we have the *Vanilla Villa that can be used in emergencies like this. Your bunny will still be surrounded by their familiar things in the Villa.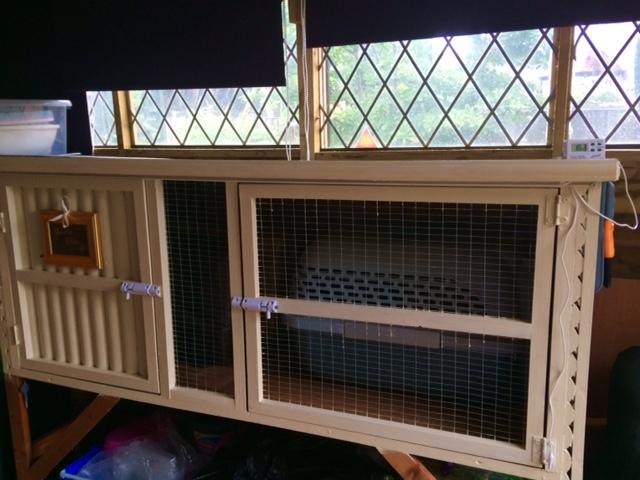 *Our Vanilla Villa is a large 5' x 2' luxury hutch in a separate building where our supplies are stored. It's super cozy, insulated and fitted with non-slip vinyl flooring and has plenty of room inside for litter trays and toys. The 'Villa' is only used for emergencies and short periods where bookings overlap by a few hours, or where there are delays and you need an additional night if the lodge is full. When not in use we store all our equipment in it - as it's so big!
What do you do if my bunny becomes unwell?
If your bunny becomes unwell we will contact you straight away and take your pet to either your own surgery (if it is local) or one of our registered veterinary surgeries; Vets for Pets, Altrincham Retail Park which is open 7 days a week or at Timperley Veterinary Centre. Any costs will be payable by you when you return or we can call you whilst we are at the surgery so you can discuss their treatment plan and pay the receptionist directly on your credit or debit card, over the phone.
You can settle any vet bills, that we pay on your behalf, with us by paying on your Debit or Credit Card rather than bringing cash (please see our terms and conditions). All your pets treatment details and receipts will be given to you when you check-out along with any prescribed medication.
We charge £10 for attending each vets appointment to cover our costs and an additional £5 if we need to use our own pet carrier.
We understand that you may be anxious that your pet has to see a vet whilst you are away, so if it helps we can call you during the consultation so you can discuss the diagnosis and treatment with the vet.
Sometimes, very sick animals may have to be referred to either Cheadle Hulme A&E Vets or Vets Now in Whitefield, Manchester. However, you must be aware that their initial consultation fees start at around £90 to £134, if admitted before 11pm and increase after 11pm, as they are both 24 hour specialist A&E Animal Hospitals.
On very rare occasions, and despite seeing a vet, rabbits can deteriorate very quickly - even after they have had medication and treatment is in progress. Should your pet pass away we will contact you immediately no matter what time of day or night this happens.
What will happen if my bonded rabbits have a fall out while we are away?
If your bonded pair of rabbits do start fighting then they will be separated immediately for the remainder of their stay, as we can not risk either partner getting hurt, and you will be contacted straight away. You will be updated daily on each rabbits progress until you return.
We monitor all guests closely. There are certain behaviours between a bonded pair that are acceptable and some that we have to act upon immediately.
You can read about what is and is not acceptable here: "When bonded rabbits fight"
Some rabbits are, naturally, more territorial than others. Most of our guests have multiple neighbours during their stay and like to see 'who' is next door and enjoy the company of other bunnies - even through the partition. However, nobody quite knows how their pets will react when they are in a new enviroment.
Can I book for only 1 night?
We do usually ask for a minimum 2 nights stay, however, we can bend the rules to accommodate special circumstances. We clean all our suites and renew guests bedding and litter boxes in the morning, therefore, checking in and checking out days are charged in full.
Can I contact you for updates while I am away?
Of course! We feel that is is such an important part of your bunnies stay with us, that we now have an exclusive 'Keep in touch with your pet' service. You will be able to see updates of your pet on our Facebook Page or we can send photo updates via WhatsApp. If you don't have a smart phone, don't worry, we can send text updates to you.
My bunny can't jump onto a play stool - how will they enjoy the balcony?
We have a special ramp to make it easier for disabled or elderly bunnies to get onto the balcony area.
Copyright Garden Lodge Bunny Retreat / Amanda J Window (C)2016