Our Guinea Pig Boarding service is only available during the warmer months from March to the end of September.

We can board guinea pigs in a
C and C Cage
that sits above the rabbit suites.

Unfortunately, we only have the one of these available, so can only board 1 set of guinea pigs at a time, so we advise that you book early to avoid disappointment.
The
C and C Cage
is usually lined with newspaper and topped with a premium quality, dust extracted wood shavings and plenty of straw bedding and hay to eat.
You can of course bring along your own fleeces and absorbent base layer, however you would need to bring enough to last throughout their stay, as we can't launder pets own bedding.
Due to the messy nature of Guinea Pigs they have a full (top to bottom) clean out every day.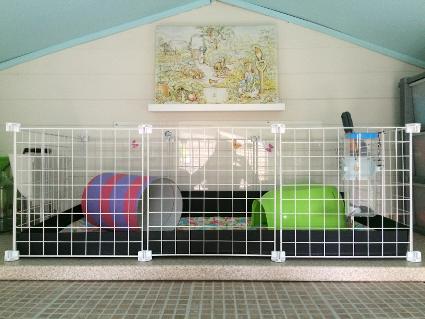 This shows the C and C Cage set up for a single guinea pig, complete with Pigloo.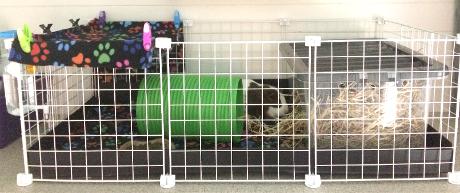 This shows the C and C Cage with a cozy, ventilated nest box big enough for 2 guinea pigs to snuggle up together, along with a fleece drape to make them feel more secure.

The Camomile Condo Prices

Our Prices for Guinea Pigs ONLY includes for bedding, hay and vegetables rich in Vitamin C and 2 daily servings of Burgess Excel Adult Guinea Pig Nuggets with *Mint or the *Blackcurrant & Oregano version.

Single Guinea Pigs
£5 per day
_______________

Pairs of Guinea Pigs

£10.00 per day

____________________________

The Piggie Playground is £12 per day from one - up to a herd of up to five piggies, but will only be bookable for last minute upgrades/bookings if one of our bunny suites is available.
* depending on current stock.