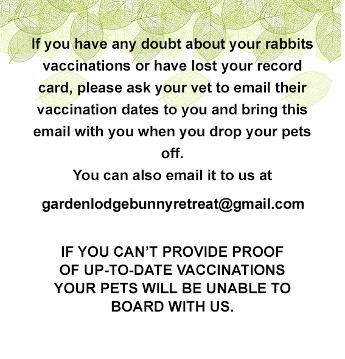 GREENS: We ask that you don't give your rabbit any greens in the 24 hours leading up to their holiday - this is so we can monitor their 'normal' droppings and reduce the risk of dirty bottoms during there first day here.
Don't f

orget

your rabbits up to date vaccination certificate - this is the most important thing we need to see!
Please bring your booking

form - you can find this attached below.
If you

haven't

already

registered

your

pet

with us, you can fill in the online

registration form

or fill in a paper one and bring this with you when you drop your pets off. You will only ever need to fill this in once - unless your

information

changes

.
Please bring your pets food if they have a special diet or don't eat the pellets that we stock

. (We stock; Burgess Adult Mint; Science Selective Adult & Pets at Home Adult pellets).
To make things easier you can now pay the balance of your pets holiday on a * Debit or Credit Card
.
Please DON'T pay your balance directly into our bank - as payments can sometimes take up to 3 days to show in our account.
(*please see our T&C's).
Dirty Bottoms
We can't admit rabbits who have poopy, wet or matted fur around their bottoms/tail/back legs.
Flystrike kills within hours - so it is imperative that pets are clean when they arrive!
All pets are health checked before going into their suites - Poopy/matted bottoms need to be cleaned before you can leave your pet with us. If you can't do this then the Veterinary Nurse at Timperley Veterinary Surgery can clean up your pets bottom area, the cost for this service is £28 and paid directly to the surgery.
If there is anything you would like to ask about your pets holiday, please get in touch...