YOU NEED TO BRING YOUR RABBITS VACCINATION CERTIFICATES AND A COMPLETED BOOKING FORM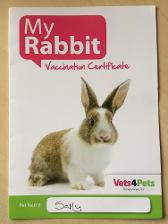 IF YOU HAVE ANY DOUBT ABOUT YOUR RABBITS VACCINATIONS OR HAVE LOST YOUR RECORD CARD, PLEASE ASK YOUR VET TO EMAIL THEIR VACCINATION DATES TO YOU AND BRING THIS EMAIL WITH YOU, OR FORWARD IT TO US.

IF YOU CAN'T PROVIDE PROOF OF UP-TO-DATE VACCINATIONS YOUR PETS WILL BE UNABLE TO BOARD WITH US.

Don't forget your rabbits regular pellet food, any prescribed medication, treats, favourite toys, special blankets and anything else that will make them feel at home. Please don't potion their pellet food off into little zipper bags, but do let us know the measurement or weight of their portions on the booking form.

Please bring your pets in a fully working pet carrier. We will refresh their hay and newspaper ready for their return trip home.
Sometimes it helps if you can bring a little 'used' litter from your bunnies litter box at home, so their litter box here will smell familiar to them - just pop it in a sandwich bag.
Your rabbits will get oodles of lush meadow hay whist they are here, however, if your rabbit has a preference for a specialist hay such as Timothy, Oat Hay, Readigrass or something else or uses shavings or a paper litter then we ask that you bring this with you :)
You can bring any beds or cardboard dens but please don't bring indoor cages as we may not be able to accommodate them or store them until you return.
You can pay the balance of your pets holiday in cash or on a card when you drop them off (please see our T&C's).
If there is anything you want to ask about their stay, please get in touch...
This form is only for the few pets who may have been vet checked, prior to checking in.