YOU NEED TO BRING YOUR RABBITS VACCINATION CERTIFICATES AND A COMPLETED BOOKING FORM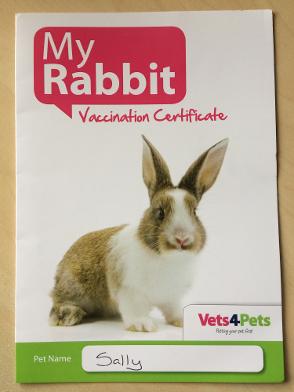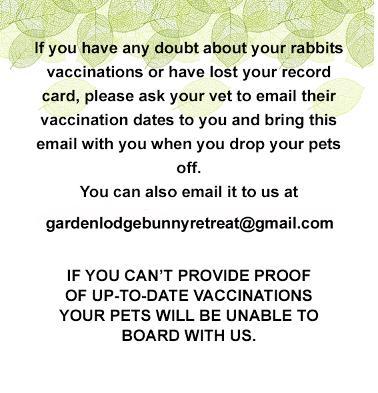 Please print off and complete the Booking Form to bring with you.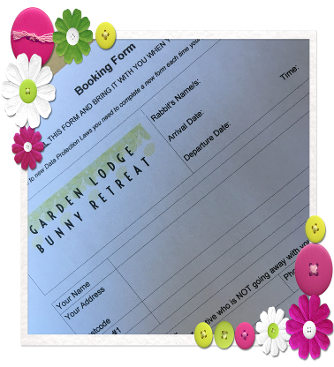 What to pack for your bunnies holiday...
Please bring your pets in a fully working pet carrier. We will pop some lovely fresh meadow hay in it for you, ready for their trip home.
Don't forget your rabbits regular pellet food, and please bring enough to last their stay. We don't stock pellets of any kind as our own bunny is on a Hay/Greens diet.
We ask that you

don't

portion food off into zipper bags, as the zips are sometimes fiddly and stick which can result in food spilling - so we are left short, but

do

let us know the measurement or weight of their portions on your booking form.
Please pack any prescribed medication and make sure there is enough to last

all

after they get home.

You

may need to re-order a new

prescription

from your vet.
Don't

forget their treats, favourite toys, special blankets and anything else that will make them feel at home.
Sometimes it helps if you can bring a little 'used' litter from your bunnies litter box at home, so their litter box here will smell familiar to them - just pop some a plastic bag.
Your rabbits will get oodles of lush meadow hay whist they are here,

however

, if y

our rabbit eats a specialist hay such as Timothy, Oat Hay, Readigrass / Camomile, Herb / or something else or uses a paper litter then we ask that you bring this with you and please pack enough to last their stay. We line our litter

boxes

with newspaper and load them with the meadow hay and In summer we often change them twice a day.
You can bring any beds, straw hides or cardboard dens but please

don't

bring

indoor cages/huts

as we can't accommodate them or store them until you return.
You can pay the balance of your pets holiday on your *Debit/Credit Card or in cash when you drop them off. Please DON'T pay your balance directly into our bank - as we can't refund overpayments/errors unless we go into the Branch.
If you would prefer us not to use your pets images on our website or social media, then please let us know when you check them in.



(*please see our T&C's).
If there is anything you want to ask about your pets stay, please get in touch...
If you need an additional booking form for a '3rd' bunny staying with us - you can download one here:

This form is only for the few pets who may have been vet checked, prior to checking in.